Whitewater
This page was last modified:
1887/88 - Current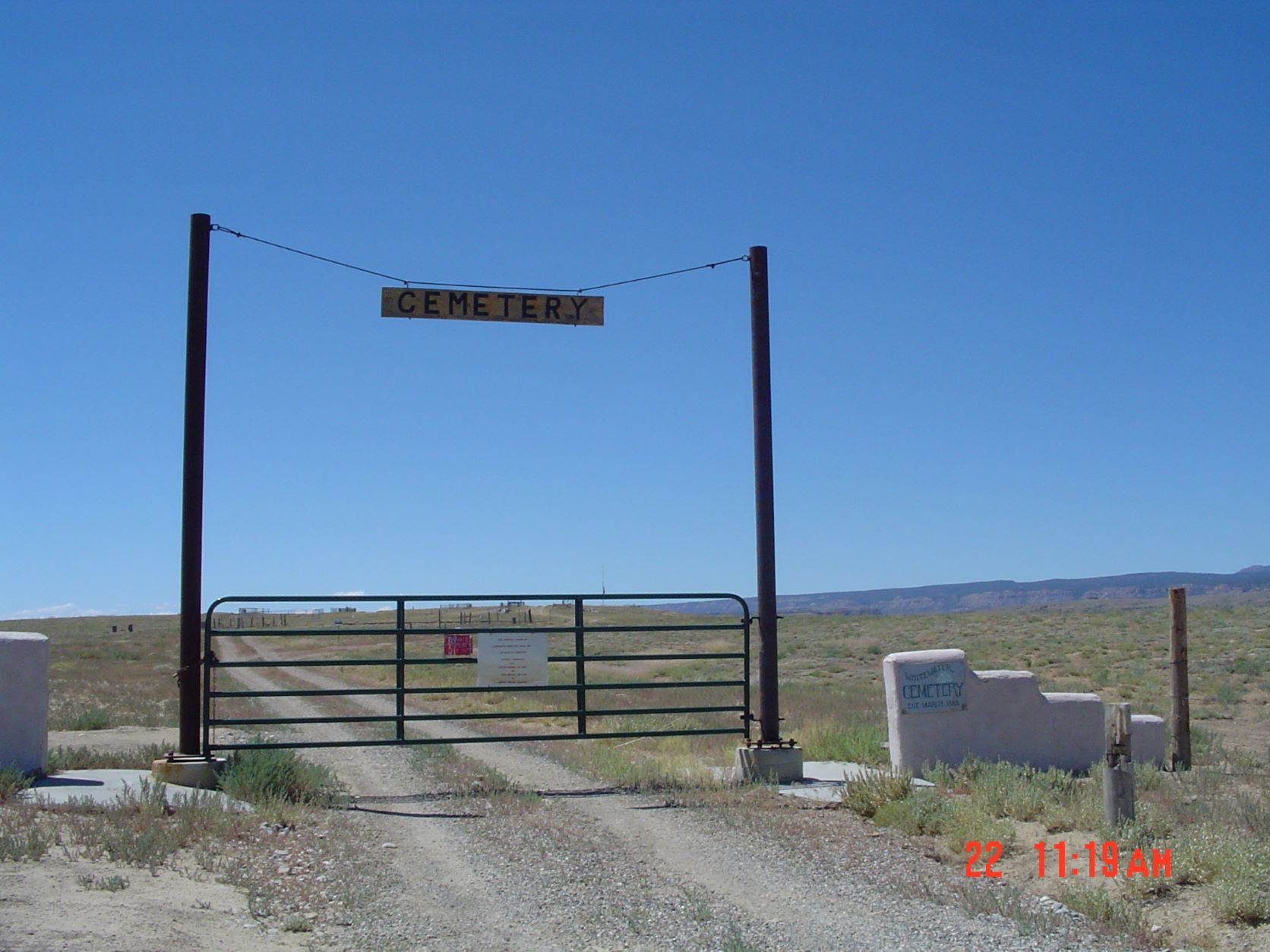 Whitewater Cemetery - **Photo Credit: DRJ 2004
Find a Grave - Whitewater Cemetery
Gate Location Address: Cemetery Road of Reeder Rd., Whitewater
Directions:From 1st St & Highway 50 in Whitewater for about 1/4 mile South on Highway 50 to Reeder Rd. Go 0.3 miles East on Reeder Rd to Cemetery Rd. Turn South and go about 0.55 miles to cemetery gate.
A brief cemetery history can be found here which includes a list of some of the veteran burials. [Author/date unknown]
The Whitewater Cemetery website can be found here.
As can be seen in the aerial image taken from Google Maps in 2023, this particular cemetery is not laid out in neat rows and there are several plots surrounded with fences. A detailed plot map of the cemetery could be added here and could be helpful for researchers looking for collateral relatives.
The earliest burial listed on Find A Grave for this cemetery is Susan H. White, wife of J.R. White, 8 Mar 1888.
There are 140 memorials listed on the Find A Grave website for this cemetery; the Billion Graves website lists 133; the 1980 MCGS Cemetery walk through database lists 66. A recent list of burials from the Whitewater Cemetery Association details 238 burials 44 of which are listed as 'Unknown'. The MCGS Cemetery Committee is in the process of reconciling all the various lists with the information provided by the Whitewater Cemetery Association.
The Whitewater Cemetery has been in the news on multiple occasions. Some of the articles can be found below:
Although the writer of this article assumed, incorrectly, that the Whitewater Cemetery was the oldest in the county, his article is filled with interesting information on some of the burials.
18 June 2010 "Help solve the mystery of Whitewater burials" by Carol Anderson.
The saving of the Whitewater Cemetery was the topic of an article in the Denver Post on 14 May 1989.
Dodgion, Archibald "Archie" Jenkins - 1835 - 1911, Confederate soldier from North Carolina, Civil War - need obituary - GJ Sentinel 9 May 1911, Pg 8 (newspaper missing from Newspapers.com; Not included in Colorado Historic Newspapers website; Not in Chronicling America website.) An image of an obituary was located on Ancestry.com posted by Debra Bashaw Pelsma in 2015 that does not have a source. I have included it here.
Myers, Clifford J [pg 1]; [pg 2] 1914-1987, US Navy, WWII [Obituary notes service with Army, needs clarification].
Chapman, Darrel Ray 1929-2022, US Air Force - Korean Conflict.
White, Joshua "Pa" 1839-1915, Civil War, Co. D, 4th Ohio Infantry, GAR.
Walker, Jesse M. 1839-1889, Civil War, Confederate soldier, Georgia. Ancesstry.com notes that Jesse Walker died in Jan 1889. I reviewed the 'Grand Junction News' for that month but did not locate an obituary. kms
Farmer, Lewis Nelson 1835-1906, Union soldier, Civil War, 80th Illinois Infantry.
Sherwood, Richard "Dick", 1916-2006, Merchant Marine, WWII.
Anthony, William Joseph, 1921-1989, US Navy, WWII.
Black, Thomas B, 1914-1988, US Army and US Navy, WWII and Korean Conflict.
Carrico, Alfred "Jr." M., Veteran, WWII [note: Alfred M. Carrico was mentioned in an 02 Aug 1964 Daily Sentinel article about an accident, age 47; overturned pickup, but no mention of death.] There is also another obituary listing an Alfred "F" Carrico.
Back to Cemetery Alphabetical List