Gateway (La Fair ?)
This page was last modified:
(need additional details)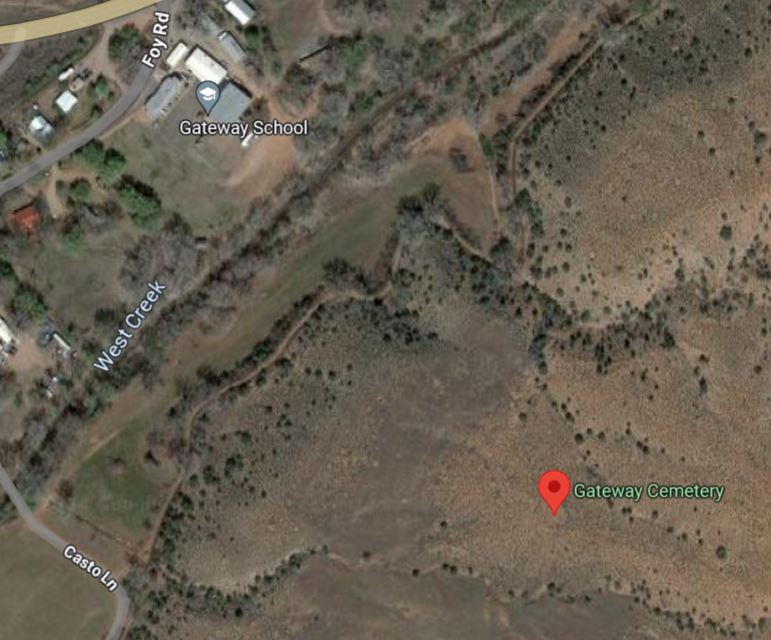 Is this where the graves are located in Gateway???
Written by Jean Moores, 1998: "Records indicate there are five to seven graves in a graveyard on top of the hill across West Creek from the Gateway School. This cemetery was only used a few times in the early 1900's. It is located on private property now owned by Jack and Rosemary Casto. The first person known to be buried was in 1900, the last in 1940. The Museum of Western Colorado kindly shared this information."
Current Status: Inactive
**need more information on this cemetery.
Directions: At Whitewater on Highway 50 turn South on Highway 141 to Gateway.
Possible Burials
Altie Hall: born 1910, died when 10 weeks old. Parents: Lewis Lafayette and Minnie Beer Hall. Unable to locate an obituary.
Ernie Hall: born 1906, died 12 Sept 1912 in house fire at Gateway. Parents: Lewis Lafayette and Minnie Beer Hall. Death notice seems to indicate that the death was on 17 Sept 1912.
George Albert Bliss 1880-1840.
In 1984 Gateway students undertook research and clean-up of the 'Gateway Cemetery'. The article can be found here.
Back to Cemetery Alphabetical List