Fair View aka Fairview
This page was last modified:
1887 - ???? (history?)
Find a Grave lists "Fairview Cemetery" as Mesa-Molina. This is not the same cemetery.
On 04 June 1992 the Daily Sentinel reported that an old grave had been found at a construction site. There was confusion at the time as too which cemetery may have been located at the location.
This article from the 05 June 1992 Daily Sentinel, that details the research done by Historian Dave Fishell, helps clear up some of the confusion.
There are/were two 'Fairview' cemeteries. The ownership history of this cemetery needs to be researched
Warranty Deed #8538, 19 Dec. 1889, Burroughs R Hall, County of Arapaho, Co and Alvina D Kenney of Weber Co, UT. $2,500. S 1/2 of the NW 1/4 and Lot Three (3) and the SW 1/4 of the SE 1/4. Section One (1) Township One (1)S, Range 1(1)W, Ute principal Meridian ???? fifteen (15) acres now enclosed and known a Fairview Cemetery.
Last deed for this property 1895
There seems to be confusion in the Find-A-Grave listings for the burials in the 'Fairview' Cemeteries. Listed here are burials made before the 1891 land patent that included the land for the present Fair View Cemetery. Marie Tipping, volunteer with the Museum of the West, has researched many of these burials and we are indebted to her for her work.
Ariel Biglow - age 43 - 24 Aug 1887 Buried Mr. Hall's Fairview Cemetery. Find-A-Grave places this burial in the 'Mesa Cemetery' in Mesa, Colorado. This is incorrect.
Find A Grave notes that Foster Hunt, who died in 1886 at the age of 14, was buried in the 'Mesa Cemetery', however no stone was ever found and the cemetery is gone. Research by Marie Tipping discovered his obituary that states he was buried at Fairview Cemetery.
Baby Girl Biglow - 18 Sept. 1886 - 26 Sept. 1886. Birth notice. The information for this burial place on Find-A-Grave is incorrect.
Infant daughter of Mr. & Mrs. Robinson Broadbent who died on 14 Nov 1885 is another burial listed in the incorrect 'Fairview' cemetery on Find-A-Grave.
The obituary for Alonzo Huxley, included here, is listed in the MCPLD obituary database as being from the Grand Junction News, p3, C2, March 18, 1888 along with a copy of the actual obituary.
Whooping cough was deadly in children. Here is another death attributed to the disease. Johnny Farrell, aged three and a half died on 7 Jul 1889.
Two year old daughter of Mr. and Mrs. Peaslee.
Maggie (Owen) McCune died on 31 July 1887 and was originally interred in the ("Old Cemetery North of L.M. Miller Ranch") which was the old Fairview Cemetery. However in 1916 her body was re interred in the Masonic Cemetery. The details of her obituary, which were printed in the 06 Aug 1887 Grand Junction News, are included on the Find a Grave website. We thank Marie Tipping for the details of her original burial.
S.D. Lingo and employee of the Rio Grande Railroad died in March of 1897. His obituary states that he was buried in the Fairview Cemetery, however Find A Grave also lists this burial in 'Mesa Cemetery'. It is unknown where his burial is now.
In 1897 a lawsuit, which made front page news, was filed that involved the title of the site of the "Fairmount" [actually Fairview] Cemetery. You can read the article here.
1907 - Present
Original Land Patentee, Marcus A Wheelock, 09 Feb 1891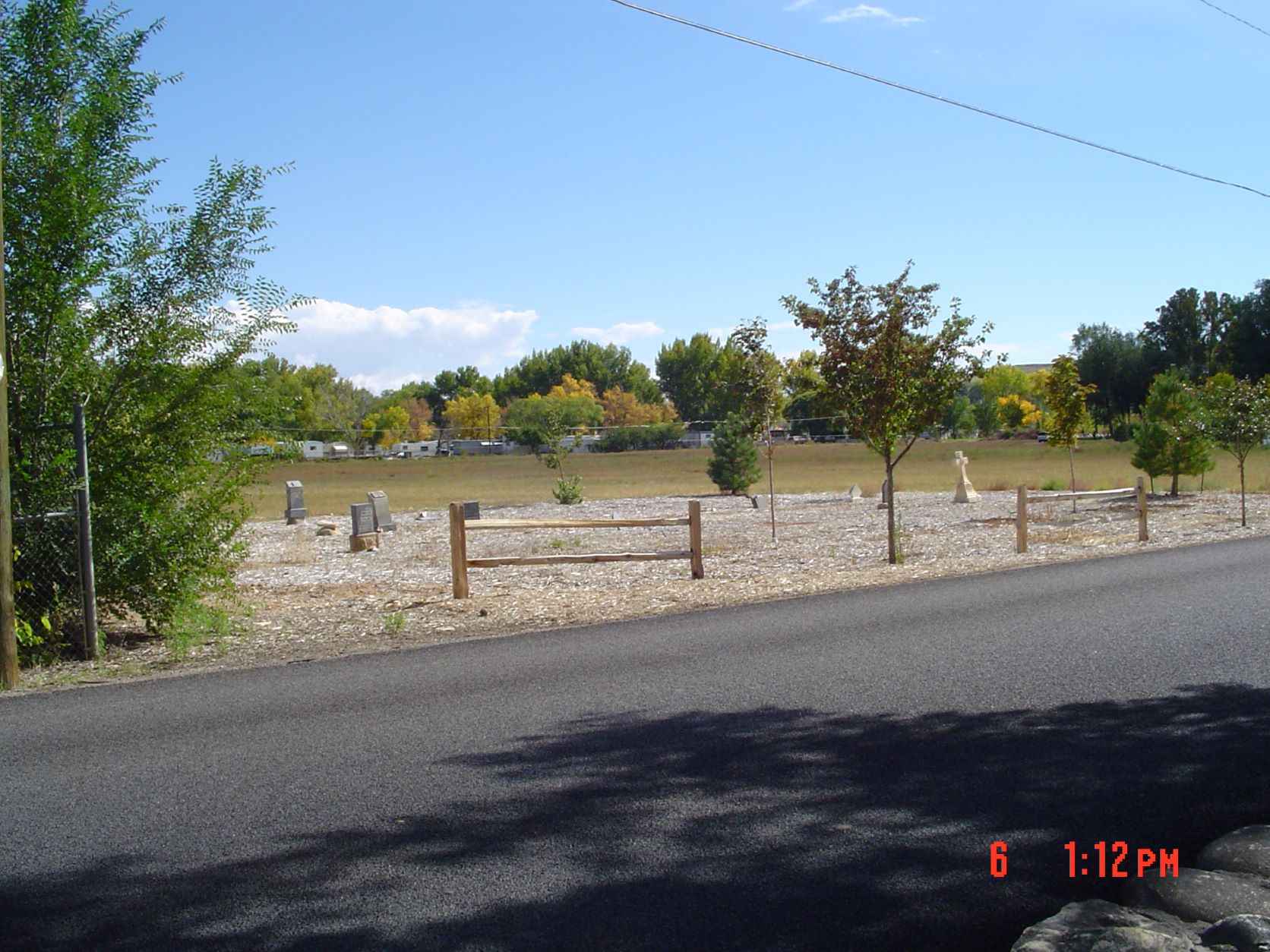 Fairview Cemetery **Photo Credit: DRJ 2004
Find a Grave - Fairview Cemetery
34 burials are listed on Find A Grave.
Gate Location Address: Canon St. (26 1/4 Rd), Status: Active
Directions: Take Highway 50 South from downtown Post Office to Canon St. (26 1/4 Rd) go about 1/4 mile South; Cemetery is on the left (East) side of the road.
The plat for the 1907 Fairview Cemetery was recorded with Mesa County on 08 Feb 1907, #65581; Pg. 57.
Fairview Cemetery Plat
Back to Cemetery Alphabetical List